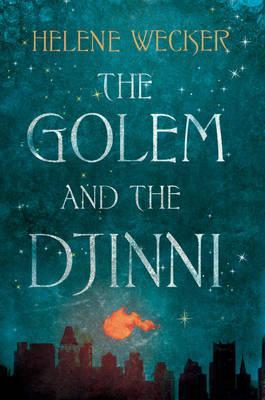 Chava is a golem, a creature made of clay and bought to life using an ancient Jewish Kabbalistic ritual. She's created to be the wife of Otto Rotfield, but he dies on their passage from Poland to New York, leaving Chava alone in the nineteenth century city, completely alien to those around her. As she tries to fit in and suppress her differences, she has a chance encounter with Ahmad, a djinni. After centuries of freedom in the Syrian desert, Ahmad was enslaved and bound. Accidentally released by a tinsmith but still trapped in human form, Ahmad is desperate to regain his freedom. As the two creatures find their way in the city and try to uncover their roots, an unusual bond grows between them.
Advance warning: this review is going to be glowing! I've been excited about reading The Golem and the Djinni ever since it first came out, especially as it's been compared to Jonathan Strange & Mr Norrell, one of my favourite novels ever. The Golem and the Djinni contains so many of the elements that I love to read about; fantasy tied to a convincing mythology, an interesting historical setting, the inclusion of magical elements in a believable way, creatures straight out of Arabian Nights and an exploration of Jewish culture. In fact, I actually put off reading this book for ages, as I was worried it wouldn't live up to my unreasonably high expectations.
But I shouldn't have worried at all - The Golem and the Djinni is probably my favourite read of the year so far and I can't see anything surpassing it. The mythology woven into the story by Wecker just felt so plausible and I loved how authentic her nineteenth century New York was. The mystery of Ahmad's capture and the secrets of Chava's creator was beautifully done, with small clues being dropped all throughout the story. I loved the sections that took place in Syria amongst the Bedouin people, and also the way Wecker wrote about the Jewish immigrant community in the city. Chava and Ahmad's friendship felt natural and unhurried, and I like that a lot about this was left ambiguous and unresolved.
It's fair to say that I liked everything about this book. It's not going to appeal to every reader; it's quite slow paced in places, but in my mind it's a rare example of a great fantasy novel for adults that weaves in historical culture and context in a believable way. If you liked Jonathan Strange & Mr Norrell or A Discovery of Witches, you'll love this!
Source: Personal copy
First Published: 2013
Edition Read: HarperCollins, 2013
Score: 5 out of 5