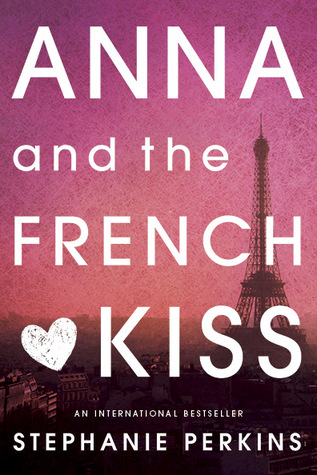 I don't read much YA, but I would have to be living under a rock to not notice the massive success of this series. With the third instalment,
Isla and the Happily Ever After,
recently published, I decided it was time to give
Anna
a go. The basic story-line goes as follows - Anna is looking forward to starting her senior year and getting closer to her almost-boyfriend Toph when her father decides to send her to boarding school in Paris. At first Anna is determined to hate being uprooted from her life in America, but she soon makes new friends. One of these is Etienne St. Clair, who she finds herself developing feelings for despite him already being in a relationship. As the year goes on, Anna and St. Clair have to deal with their conflicting feelings.
I can see why
Anna and the French Kiss
is so popular. It's super fun to read and the romance between the two main characters is well written. There's no insta-love here - Anna may be attracted to St. Clair initially, but we only see her fall in love as their friendship develops and they spend more time together. At first they have an easy-going friendship, but as time goes on, they become closer and support each other through some major life events, and it was good to read a relationship grow in such a realistic way. It also helps that Anna is a likeable main character. She's aware that she shouldn't have feelings for St. Clair and so does her best to suppress them and just be his friend. She isn't perfect and comes across as a normal, relatable teenage girl, and I'm sure this has contributed to this book being so loved by so many.
So I liked Anna, but I wasn't so keen on St. Clair. Yes, he is described as being dreamy, and he is a great friend to Anna, but I thought he was terrible in the romance department. He knows his friend Meredith has feelings for him, and chooses to let her hope rather than address it. He's in a relationship with Ellie, despite having deep feelings for someone else. He's not technically cheating, but he is on an emotional level, and he continues to stay with Ellie despite knowing that Anna likes him back. I know that some of this is necessary for the plot, but St Clair just comes across as a bit spineless. I was also sick of Perkins constantly reminding me that St. Clair is short - who cares?!
Anyway,
Anna and the French Kiss
was a really fun read. It's not perfect but it's quick and engaging and I enjoyed reading it. I'll definitely be picking up the next two books.
Source:
Personal copy (kindle)
First Published:
2010
Score:
3.5 out of 5