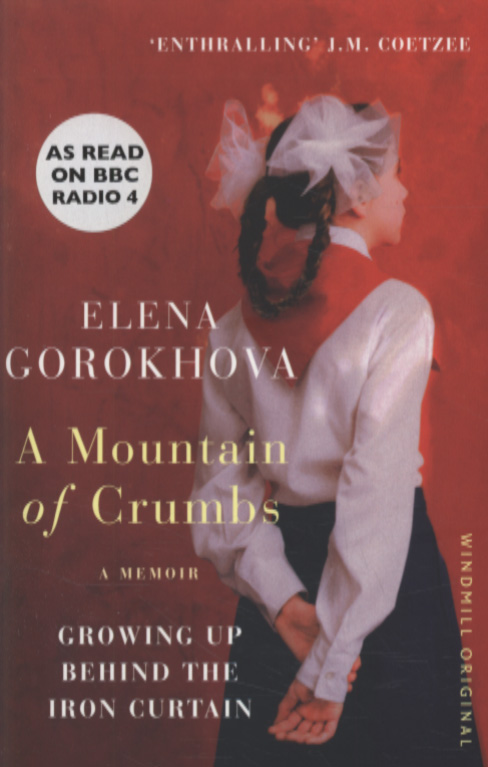 A Mountain of Crumbs
is a memoir about growing up in the Soviet Union in the period after Stalin but before its collapse. Born to a physician mother and much older father, Elena grows up in a strictly controlled country where even wanting to learn the English language can be a dangerous act. Perceptive early on to the concept of
vranyo,
the idea of pretending everything is wonderful even when it is not, she soon grows tired of the restrictions and contradictions - when she earns real money, there is nothing in the shops to spend it on - she manages to leave by marrying an American man she isn't sure she loves and starts a new life in the USA.
A Mountain of Crumbs
was a very well written memoir. Gorokhova's intelligence and perceptiveness come across in every single page and she manages to transport the reader both back in time and to a system that no longer exists. The small details were the ones I really savoured - the school friend who was the only girl with a proper hair cut, the people lining up for toilet roll, the girl humiliated in assembly for writing a love letter. Gorokhova's voice in this memoir reminded me a lot of Sylvia Plath's in
The Bell Jar;
obviously the two books are not similar in content but there was the same perceptiveness, self awareness and a sense of not fitting with the surroundings.
One thing I did like about this memoir was that it was neither a whitewashed, sentimental account of her childhood or a harsh condemnation of the Soviet Union. Gorokhova managed to create a balance; some passages were recounted with nostalgia but in other parts you can tall that Gorokhova was very glad to have made it out to the US. This balance existed with her personal life too - the mother-daughter relationship is written very realistically (especially when Elena is a teenager) and she is honest about the fact that she largely got married as a passport out of the country.
But despite all of this and the fact that I
knew
I was reading a good book, I just couldn't connect with it or get swept away by it. Although I admired Gorokhova's writing, it had a detached quality that made it hard for me to connect with her personally, something that I think is crucial for a very good memoir. I enjoyed
A Mountain of Crumbs
whilst I was reading it, but I was never really in a hurry to pick it back up.
Verdict:
Well written but impersonal memoir about growing up in the Soviet Union.
Source:
Library
First Published:
2010
Score:
3.5 out of 5