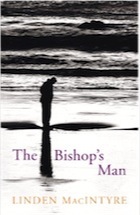 Father MacAskill is known as 'The Exorcist' as it's his job to deal with instances of child-abuse and priests that break their vows of celibacy. Directed to keep such events hidden from the eyes of the media and the world, he becomes an expert in shunting priests sideways to other parishes and persuading victims to not seek retribution. But when he is hidden in a rural Nova Scotia parish to avoid a public scandal, he is forced to reflect on his life, his career and whether his faith can sustain him.
The Bishop's Man
started out as a quiet, leisurely read with a pace that switched up several gears as events swirled out of Father MacAskill's control. I'm not a big fan of thrillers or mysteries, so wasn't interested in 'solving' the book, but I did think that MacIntyre cleverly weaved in deeper issues such as whether celibacy is a reasonable aim for priests and whether suicide is ever acceptable for Catholics. It was a book to make you think.
The topic of child abuse in the Catholic church was always going to be a sensitive one but I think MacIntyre handled it sensitively; from the families who were angry but still do what MacAskill tells them to do, to the priests that offer their explanations, to MacAskill himself, who never gets the closure or reasons he is looking for. The Bishop was an especially interesting character, only interested in preserving the church from scandal and not in helping the victims he refuses to acknowledge;
"They'll get over it. They're young. If it wasn't this, it would be something else. The dope. The cars. The promiscuity. Life is damaging, but never forget the healing power of the Sacraments. The Sacraments mitigate the damage. We can't let a bunch of misfits and complainers undermine the Sacraments." p128
This novel was really my first experience of Canadian literature. It was recommended by a Canadian blogger friend (I wish I could remember who) and I was lucky enough to find a copy of it in my library. And aside from the themes of the novel, the Nova Scotia landscape was almost a character in itself in the book. I was swept away to the disintegrating fishing village full of men with nothing to do and the long, bleak winters where everyone knows each other.
Overall, I would recommend this book. It was a well written, sensitive examination of the topic of child abuse by Catholic priests. The mystery and thriller elements were perhaps not for me, but I could still appreciate the writing and the story.
Source:
Library
Score:
3.5 out of 5