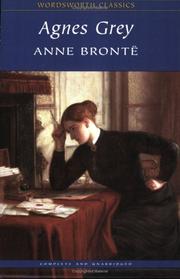 Agnes Grey
is a semi-autobiographical account of life as a governess in nineteenth-century England. Agnes decides to take a position to support herself and her family and is shocked by the behaviour of her young charges in both of the families in which she works. She experiences the frustrations and difficulties of the job and the loneliness that comes from being not a part of the family, but not quite a servant either.
This review will be quite a personal one about my own reaction to the book. As a teacher, I read this through a different viewpoint to other readers and as such, I loved the book. Although it was published in 1847, I found myself nodding along with the descriptions of Agnes as she struggled to control the children in her first position, thinking back to my own experiences as a trainee teacher. She makes all the classic mistakes I made; wanting to be liked by her pupils, not always following through on her warnings, taking any criticism of her skills very personally. Learning to teach and control a class is a steep slope and it takes time and plenty of mistakes.
As Agnes remains in her first position in difficult circumstances, her abilities as a governess improve and she develops a common sense approach that is very similar to how I approach my pupils now;
"
Patience, firmness and perseverance were my weapons, and these I resolved to use to the utmost. I determined always strictly to fulfil the threats and promises I made, and, to that end, I must be cautious to threaten and promise nothing that I could not perform. Then, I would carefully refrain from all useless irritability and indulgence of my own ill temper."
With teaching, it seems like the more things change, the more they stay the same. I felt for Agnes when she was criticised for things out of her control and expected to maintain perfect behaviour without any power to do so. When the father of the family took to performing unexpected 'checks' on Agnes, the pressure it induced reminded me of an OFSTED inspection now! She is expected to give up all her time to her job, sacrificing her own life and interests; that hasn't changed too much either in the intervening 150+ years.
I also very much enjoyed Anne Bronte's writing style. Although I've read books by Charlotte and Emily, this is the first book by Anne I've tried and I thought it was a good mix of Charlotte's perceptiveness about emotions blended with a sharp wit that reminded me a bit of Austen. Like Agnes, I am a very reserved person, so I could identify with her and her struggles not to 'impose herself' on anyone.
The only criticism I will make of the book is that it makes an abrupt turn into a romance about two thirds of the way through. It starts out as an account of life as a governess and then becomes almost not about that at all and instead about Agnes' romance. I found the shift abrupt and a bit jarring, almost as if Anne felt that she had to include a romance to make it appeal to most readers.
Agnes Grey
is a quiet, character driven book that probably won't appeal to those who enjoy action and adventure. I thoroughly enjoyed it and hope to soon read
The Tenant of Wildfell Hall
, Anne Bronte's other published novel.
Source:
Library
First Published:
1847
Score:
4.5 out of 5