This Sunday Salon is almost completely unrelated to books, being all about eating fresh food. I'm not ashamed to admit that when I left home for good (university doesn't count), at the age of 23, I was a fussy eater and unable to cook anything from scratch. The husband (then boyfriend) and I subsided on pasta sauces out of jars, pre-made chilli sauces and a lot of toast, not having the money to eat out. We didn't eat ready meals, but nothing was freshly cooked from scratch and eating wasn't a great pleasure.
Then my friend Emma lent me her copy of Jamie Oliver's
Ministry of Food
cookbook, written for complete beginners. I started with the basics: spicy tomato sauce, spaghetti bolognese, chicken fajitas, hearty soups and beef pie. I soon found that not only could I cook if I had a decent recipe, but that my food tasted
good
, so much better than the processed junk I had been eating before. I learned how satisfying it is when you cook something and someone else visibly enjoys it.
And after that, nothing could stop me really. I moved on to other cook books and different cuisines and was soon eating far more than I had before. I discovered that I really do like fish, as long as it's not of the oily variety. I learned the power of a good salad dressing to transform boring old veg. I started making curries from scratch and experimenting with different cuts of meat - lamb shoulder, pork belly. Thomasina Mier's
Mexican Food Made Simple
inspired in me a love of proper Mexican food, not just chillies and fajitas. I bought a blender and started replacing my fizzy drinks with fresh smoothies.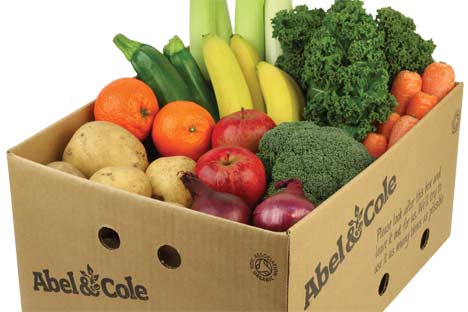 The latest step in my fresh food journey has been signing up for an
Abel and Cole
fruit and veg box. I now get fresh, organic, seasonal fruit and vegetables delivered to me every Wednesday and plan my meals around these. My goal is to not have anything left each week. Thanks to this box, I've tried many things that I hadn't in my previous life as a salad-dodger. I've discovered a new love for chard, asparagus and the more unusual varieties of British grown apples. I've eaten cauliflower cooked about ten ways, and more types of stir fry than I can count.
But the point of it all is that I'm
better
for it. I have more energy and my taste buds are more alive. I'm not opposed to the odd take-out but if I eat processed food out of a can or jar, it just tastes so bland and sugary to me now. It is more time-consuming than heating up a jar of pasta sauce, but now that I'm used to taking the time and eating properly, it doesn't seem like a hassle anymore.
So I guess you could say that fresh food is one of my soap box issues now. It drives me mad to see people existing on take-out or claiming that they don't have the time or money to cook properly. Lacking the skill I can understand, I was there too, but making a fresh pasta sauce takes minutes and a stir fry not much more. My husband and I both work full time and from home in the evenings too but we make the time for cooking because it's important to us to eat properly and enjoy what we are eating. We still eat junk every now and again and chocolate does feature in our cupboards, but it's all about balance.
What about you? Do you think a lot about the food you eat? And does anyone have any amazing cookbook recommendations?